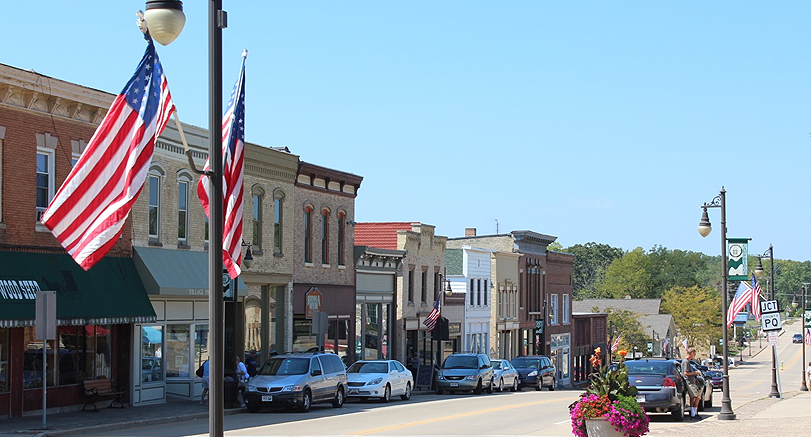 Small Towns Face Rising Suicide Rates
The realities of small-town life are influencing suicide rates in rural America. According to a study published in the May [2015] issue of the journal JAMA Pediatrics, the suicide rate for rural adolescents is twice that of their urban counterparts. Suicide rates across the age spectrum increases 20 percent in rural counties between 2004-2013. These disturbing trends continue to increase.
http://www.msn.com/en-us/news/us/small-towns-face-rising-suicide-rates/ar-BBmMHWC?li=AAa0dzB &ocid= U142DHP
Rural roads in disrepair due to budget cutbacks
Rural communities have experienced the closing of schools, businesses, and hospitals. Now state and county transportation officials across the country are closing many rural roads and bridges to use limited transportation funds for urban and suburban road construction projects. Not only do these closings create hardships for farmers who have to drive out of their way to reach their fields, but some rural communities find that they are even more isolated than ever before.
http://bigstory.ap.org/article/a59b8ae974e14ac1bbc22a8c3add3cef/save-money-states-give-repairing-some-rural-roads
When a national tragedy affects a small town . . .
And it appears the headline writer misrepresents the story!
https://www.washingtonpost.com/world/national-security/military-service-gave-fallen-marine-a -ticket-out-of-tiny-wisconsin-town/2015/07/17/d3c85a6a-2cb8-11e5-bd33-395c05608059_story.html?wpisrc= nl_headlines &wpmm=1
Returning to rural communities . . . or not
Return migration can make a big difference in repopulating small towns. A research study has identified some of the factors that motivate former residents of rural communities to return (or not return) after living elsewhere. You can link to the just the summary or read the full report.
http://www.ers.usda.gov/publications/err-economic-research-report/err185.aspx
Troubled Rural Mail Service
"Slow mail delivery and poor service are hitting rural America hard. . ." So begins this article about troubled mail service in rural America. Cost-saving reductions to service is hurting rural populations more than their big city counterparts.
http://www.washingtonpost.com/blogs/federal-eye/wp/2015/05/08/senators-press-new-postmaster-general-on-troubled-rural-mail-service/?wpisrc=nl_headlines &wpmm=1
Farmers Have a Horrifyingly High Suicide Rate
You might assume that rural living is a peaceful and low-stress lifestyle. The stress for farmers can be severe, so severe that their suicide rates are alarming. Small-town and country pastors and churches will do well to recognize the symptoms of this agri-stress among farmers and their families.
http://www.msn.com/en-us/news/us/farmers-have-a-horrifyingly-high-suicide-rate-these-people-are-trying-to-change-that/ar-AAbfUDH?ocid=U141DHP
Hunt Brothers Rules Rural Pizza Market from Gas Stations
There are big opportunities for businesses in small towns. Hunt Brothers Pizza (HBP) is selling pizzas in places where major pizza franchises wouldn't locate. Now 7,300 locations strong, HBP is baked and sold in small-town gas stations and convenience stores in 28 states. Who says nothing good can come from small towns?
http://www.herald-dispatch.com/business/hunt-brothers-rules-rural-pizza-market-from-gas-stations/article_c2e2cd05-9894-535a-b40e-bb9576fcac87.html
Rural Youth Suicide Incidents Close to Double Urban Rate
The results from a study about teen suicide, conducted by Ohio State University's Wexner Medical Center, may surprise you. The study found that the suicide rate for rural youth is almost two times higher than for urban youth. This article is a reminder that youth-based ministry in town and country settings is needed.
http://www.boston.com/health/2015/03/09/rural-youth-suicide-incidents-close-double-urban-rate/xRM1wjb31pLkJON8Fb7LcO/story.html
Federal Subsistence Board Seeks Change to Rural Determination Process
Defining "rural" is not an exact science. According to the U.S. Census Bureau, Rural encompasses all population, housing, and territory not included within an urban area. But if a community of 2,500 is located in a densely populated area, the Census Bureau considers it to be within an Urban Cluster and not rural. To add to some of the confusion, the following article puts a new twist on determining the meaning of "rural" in Alaska!
http://www.alaskapublic.org/2015/02/24/federal-subsistence-board-seeks-change-to-rural-determination-process/
Urban-Rural Split in Minnesota Grows Deeper, Wider
Rural Minnesota communities are concerned that their needs are being overlooked by state lawmakers who appear to prefer spending tax dollars in Minnesota's cities. ​Demographic trends and declining rural populations contribute to the growing concerns.
http://www.startribune.com/politics/289688071.html
Home Is Where the Jobs Are
Outsourcing jobs from urban populations to rural communities is becoming a strategy to stem the consequences of declining populations and economies in agricultural states such as Kansas and Nebraska.
This trend could bring new opportunities to churches in rural America.
http://www.businessweek.com/articles/2014-01-03/for-jobs-revival-rural-towns-work-with-business
Tribute to a Fallen Farmer
Read a heart-warming story about how an Illinois small-town farming community paid tribute to a young farmer, Kyle Hendrix, who passed away at age 31.
http://modernfarmer.com/2013/10/breathtaking-tribute-fallen-farmer/
http://www.illinoishomepage.net/story/d/story/farmer-remembered/11872/twsu8erW40iQzWFYI_CsNQ
Rural Banks Know Something Big Banks Don't
What do small rural banks have over big banks? The answer lies in the quality of relationships they have with their customers and the knowledge they have about their communities.
Might there be parallel advantages that relational rural churches have over megachurches?
http://www.businessweek.com/articles/2013-10-17/rural-banks-thrive-on-soft-information-good-neighbor-policy
Student Debt Relief Helps Kansas Boost Rural Population
Some states and communities are turning to student loan repayment plans to attract college graduates to small-town and rural communities.
How might small-town and country churches respond to these young rural residents?
http://www.businessweek.com/articles/2012-08-23/student-debt-relief-helps-kansas-boost-rural-population
Closing a hospital, and fearing for the future
Closing of rural hospitals is becoming a routine fact of life for many small communities.
http://www.msn.com/en-us/news/us/closing-a-hospital-and-fearing-for-the-future/ar-AAfgymP?li=AAa0dzB&ocid=edgsp
Drones to deliver medicine to rural Virginia field hospital
The current growing popularity of drones may be the answer to getting medicine and other supplies to health clinics in rural and remote areas.
http://www.washingtonpost.com/local/virginia-politics/drones-to-deliver-medicine-to-rural-virginia-field-hospital/2015/07/01/80abd362-1f3d-11e5-aeb9-a411a84c9d55_story.html?wpisrc=nl_headlines&wpmm=1
Rural Hospitals, Beset by Financial Problems, Struggle to Survive
The stories of rural hospitals closing their doors continue to mount. When a rural hospital goes out of business, it is difficult particularly for the elderly who have depended on a nearby hospital to treat their medical needs. So goes the story of the now defunct hospital in Mount Vernon, Texas.
http://www.washingtonpost.com/national/health-science/rural-hospitals-beset-by-financial-problems-struggle-to-survive/2015/03/15/d81af3ac-c9b2-11e4-b2a1-bed1aaea2816_story.html?wpisrc=nl_pdmost&wpmm=1
Rural Health, Communities Seek Ways to Improve Care
While many rural hospitals have gone out of business and continue to do so, the Hopedale Medical Complex (HMC) is thriving and expanding. You'll enjoy reading about this unique and successful hospital in the small town of Hopedale, Illinois. HMC is on the list of small-town "field trip" stops that RHMA's TACT students experience each year.
http://www.illinoisfarmertoday.com/news/regional/rural-health-communities-seek-ways-to-improve-care/article_602209e8-a6f9-11e4-b4d1-5fed5affc2e0.html
Rural Hospitals in Critical Condition
Rural hospitals are closing at alarming rates, resulting in less access to critical care and other medical services for rural communities. The following article considers why this disturbing trend is happening.
http://www.usatoday.com/longform/news/nation/2014/11/12/rural-hospital-closings-federal-reimbursement-medicaid-aca/18532471/