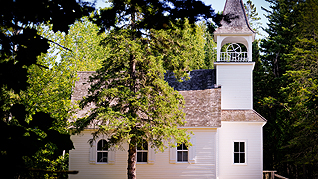 Growing a Small-Town Church in a Big-Church World
"Small-town church growth" is not an oxymoron, as many people believe. Thousands of communities across America are lacking an evangelical church, but RHMA has been committed to both developing and strengthening small-town churches since 1942. After talking to pastors and their spouses from all over America, and working with communities from the deserts of Arizona to the forests of New York, we know there are many different ministry ideas for small churches.
A small-town church doesn't have the same resources as a mega-church. That's why we usually focus on helping towns of 5,000 or less. Mega-churches have the luxury of more money and volunteers, but that doesn't mean small-town churches can't find ways to attract new members, and retain their current ones as well.
Brainstorming Ministry Ideas for Small Churches
There are countless ministry ideas for small churches, no matter your budget, location, or the size of your congregation. Here are just a few ways to come up with the best ministry ideas for your church:
Focus on children: You may have a lot of kids attending church every week, but what about teens and young adults? If you see only a few teens in attendance, then chances are that as kids, they got bored and decided not to come back. Focus your efforts on developing a great children's program to keep them engaged, and make them want to come back every week!
Find your strengths: If one of your members is a gifted singer, manager, pianist, or if they have some other talent that they're willing to share, then use it! If you are a small church, you can still have many volunteers if you find out what they're passionate about and build programs around their gifts!
Meet with others: Brainstorming is best in large groups. That's why we conduct conferences, present workshops and seminars, and counsel with churches seeking our advice.
Small-town churches are far from extinct. RHMA's purpose is to plant and strengthen small-town churches. Whether you're a pastor who wants to learn more about rural ministry or a seminary student, join us by attending one of our conferences, pastoral training program, or by visiting our Opportunities to Give and Serve pages.