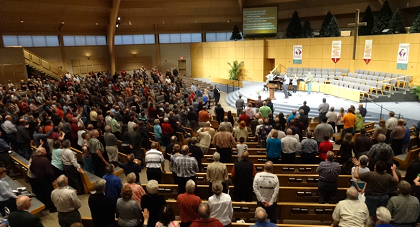 About Our Pastor Leadership Conferences
In 1942 Rev. C.J. Rediger founded Rural Home Missionary Association as a result of the declining numbers of rural churches. During the early years of World War II, rural America was abandoned as more and more Americans moved from rural areas to the cities. Therefore, to stop the decline of rural ministry, Rev. C.J. Rediger and his wife founded RHMA as a church-planting agency. Now we also conduct pastor leadership conferences for small-town pastors.
An RHMA small-town pastor leadership conference provides:
Encouragement in ministry from those who understand rural and small-town ministry,
Pastoral training for small-town and rural church leaders,
And instruction for current special needs and opportunities in rural and small-town ministry.
We provide conferences tailored to address ministering in a changing community and the challenges small-town pastors and their wives face. Click here to read about our upcoming and recent conferences.
Training for Graduates
We don't just provide training and conferences for current small-town church pastors and leaders. Through our Town And Country Training (TACT) Program, we also provide specialized courses for seminary students going into rural and small-town ministry. 3 out of 4 graduates seeking a pastorate will find themselves in a small-town or country church, but they may not be prepared.
For those who anticipate going into town and country ministry, our courses offer chances where students tackle common pastoral tasks that are shaped by the town and country context and cultural immersion. These courses are also meant for pastors already serving in small-town ministry and their spouses.
Learn more by visiting our TACT website, or click on these links to learn specifically about:
In conclusion, RHMA's purpose is to plant and strengthen small-town churches. Join us by attending one of our conferences, courses, or by visiting our Opportunities to Give and Serve pages.