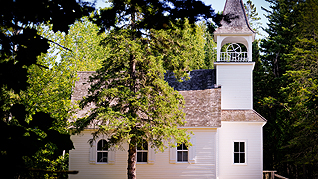 How We Serve the Town And Country Church
We believe in the town and country church. In 1942 Rev. C.J. Rediger founded RHMA as a result of the declining numbers of rural churches. During the early years of World War II, the country abandoned rural America as more and more Americans moved from rural areas to the cities.
Rev. Rediger noticed this problem, but he was not the only Christian leader who did. Soon he and his wife began Bible studies, Sunday Schools, and Vacation Bible Schools. It then became obvious that RHMA was needed, so they formed a permanent organization. Since then, RHMA expanded across the Midwest and throughout the USA. While we are headquartered in Morton, IL, we have opened new and previously closed churches across the country.
About Rural Home Missionary Association
Thousands of communities across America lack an evangelical
church. This is why we serve as a church-planting agency and why we offer conferences and programs to help town and country churches continue to grow.
To help other small-town and rural church leaders connect, receive encouragement, and receive town and country training, we hold conferences and seminars throughout the USA. Whether you are looking for a small-town pastors' conference or for a town and country church seminar, we are here to help you.
We conduct conferences tailored to address ministering in a changing community and the challenges small-town pastors and their wives face. Click here to learn about our upcoming seminars.
Our TACT Program
TACT stands for Town And Country Training. 3 out of every 4 graduating seminary students seeking a pastorate will find themselves in a small-town or country church. Often, these graduates are unprepared, which is why we offer our specialized, accredited classes.
These classes are meant for students who anticipate going into town and country ministry, or those who have already been in town and country ministry and would like a refresher course. Click here to visit our TACT program website and to learn more!
"Let this be written for a future generation…" Psalm 102:18
In conclusion, RHMA's purpose is to plant and strengthen small-town churches. Join us by attending one of our conferences, courses, or by visiting our Opportunities to Give and Serve pages.