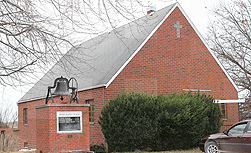 At Rural Home Missionary Association, we are passionate about rural church ministry. RHMA is a church-planting agency founded in 1942 as a result of the declining numbers of rural churches during World War II. We continue to serve rural communities by developing new churches, and our focus is to plant and develop churches in a diversified and spiritually neglected non-urban society.
Along with planting rural churches across the USA, we also strive to strengthen the small-town churches already serving rural communities. Small-town churches in non-urban communities face many challenges, but they can still thrive and grow.
Challenges Rural Church Ministry Faces Today
There are some common problems that many small, rural churches face. These challenges include:
Revolving-door pastorates: 3 out of 4 graduates seeking a pastorate will find themselves in a small-town or country church. However, seminary students and their spouses may not be prepared for small-town ministry. After spending a year or so in a rural community, it's not uncommon for them to seek ministry elsewhere.
Self-esteem issues: A church's self-esteem is important for its future. As attendance dwindles and more and more facility repairs are needed, the church's self-esteem will decrease. As a result, it could be hard to see a future for said church, or a reason why to continue.
Limited resources: Resources don't just refer to money, but also vision, leadership, and training. Small-town churches can accomplish much more by doing less. They just need the vision, training, and leadership to succeed.
How We Strengthen Rural Church Ministry
We apply many of the principles of church planting to strengthen small-town churches — in fact, in many ways this is a new beginning (we like to call it a "re-start") for the church. If you are a small-town church, we can help you. Rural Home Missionary Association seeks to strengthen small-town churches by:
Conducting conferences for small-town pastors,
Presenting workshops and seminars at pastors' gatherings,
Counseling with churches which seek our advice,
Providing resources that benefit the small-town pastor and church,
And provide pastoral training for those going into town/country settings.
RHMA's purpose is to plant and strengthen small-town churches. Join us by attending one of our conferences, courses, or by visiting our Opportunities to Give and Serve pages.